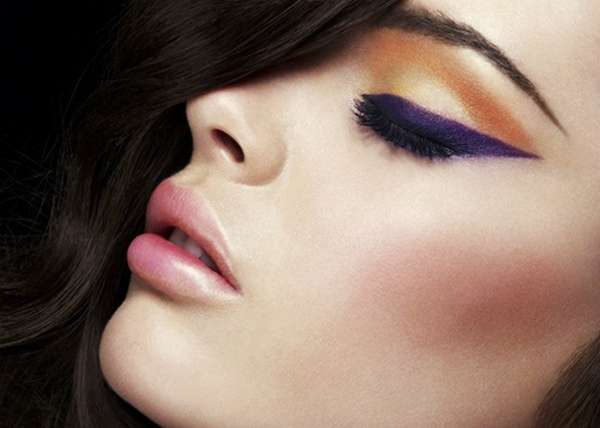 There is this one day in a year when you really want to astonish your boyfriend with your appearance. And we are not talking about your wedding day of his birthday but Valentine's Day. Below, you are going to find several tips on how to do perfect Valentine's day eye make-up for your beloved one.
Begin with your face skin. Cover it with either a BB cream or a make-up primer, Bobbi Brown foundation and a powder that match your skin tone and its needs. If you have to camouflage some skin imperfections, then reach only for a high quality concealer like, for example, the one produced by Kryolan. Define your eyebrows with an eyebrow pencil or special eyebrow shades. Later, cover your eyelids with an eye shadow keeper. And now you can start with your Valentine's Day eye make-up.
Use a black, sparkling eye shadow from Lily Lolo Laid Bare palette and apply it on middle and outer parts of eyelids. Mark the lower eyelids with a black eyeliner. Then, smudge the line and blend it with a violet eye shadow. Remember, it is crucial to blend both colours precisely. Smudge the black shade applied on eyelids using a brown shade. Blend both cosmetics carefully, and at the same time, stretch the product towards the above crease area. After that, apply a dark brown eye shadow right on outer corner of the eyes and blend it with the already blended colour cosmetics. Thanks to that, you achieve the effect of depth. Now, use a bright, pearl eye shadow in order to highlight inner corners of the eyes and skin under eyebrow arches. Apply the same eye shadow along lower eyelash line and reach for a white eye pencil to put it on eye water line. It is suggested to apply a little bit of a black eye shadow on upper eyelids as well. Finally, mascara your eyelashes and attach the false ones.
Finish your Valentine's Day make-up covering your lips with a bright pink lipstick, and your cheekbones with a sheer blusher. As you can imagine, this is rather strong version of eye make-up. For that reason, all the shades applied has to be wisely selected. To put it differently, if you decide to apply dark eye shadows, then you have to use a bright lipstick and the other way round. Intensively defined lips are counterbalanced with bright eye shadows.