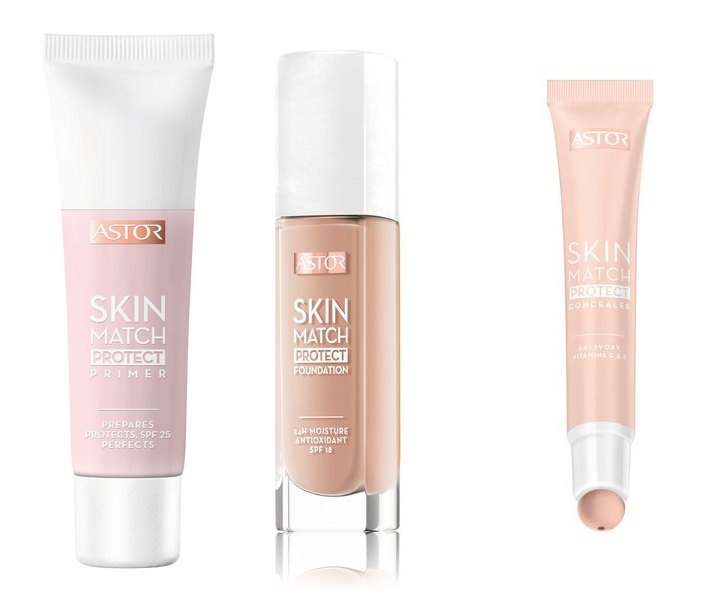 New cosmetics from Astor brand are recommended for all people having mature, dull and fatigued face skin. Their main aim is to highlight, add gleam and restore youthful appearance (due to E vitamin). Besides, these products are able to moisturise, smooth, even skin tone and protect it against harmful working of solar radiation (contain SPF 18). Skin Match Protect collection comprises of three cosmetics, which will enable you to create the perfect make-up.
The make-up base has delicate texture, does not clog pores and holds long when applied on face. It contains E and A vitamins, moisturizing substances and anti-oxidants. Argan oil is also perceived as the advantage of the product. What is more, the cosmetic smooths fine lines, highlights complexion a little bit and camouflages clogged skin pores. What are the other features of make-up base Skin Match Protect from Astor? Basically, this product shields face form contaminants originated from external environment, absorbs excess of sebum and evens skin tone. In general, the make-up base can be applied alone if you want to obtain the effect of light highlighting.
When it comes to the make-up foundation Skin Match Protect by Astor, it provides 24 hours of working. It adjusts to skin tone and gifts skin with moisturization. In fact, the product is good at providing natural-looking camouflage. Another positive side to mention, the cosmetic shields complexion against solar radiation and other pollutants. Furthermore, the product covers minor skin imperfections such as dark circles under eyes, acne or discolourations. Last but not least, the make-up foundation has light formula due to which it is easy to apply on face skin.
Now, a brief review of the concealer Skin Match Protect from Astor. In short, the cosmetic contains E and A vitamins that are responsible from skin care. What is more, the product camouflages discolourations, red marks, acne, dark circles under eyes and other skin imperfections. Furthermore, the concealer is able to highlight complexion because it contains sparkling particles. The applicator is in a form of a small sponge that does not irritate sensitive skin that is located underneath eyes. Obviously, this applicator facilitates putting on the cosmetic flawlessly.