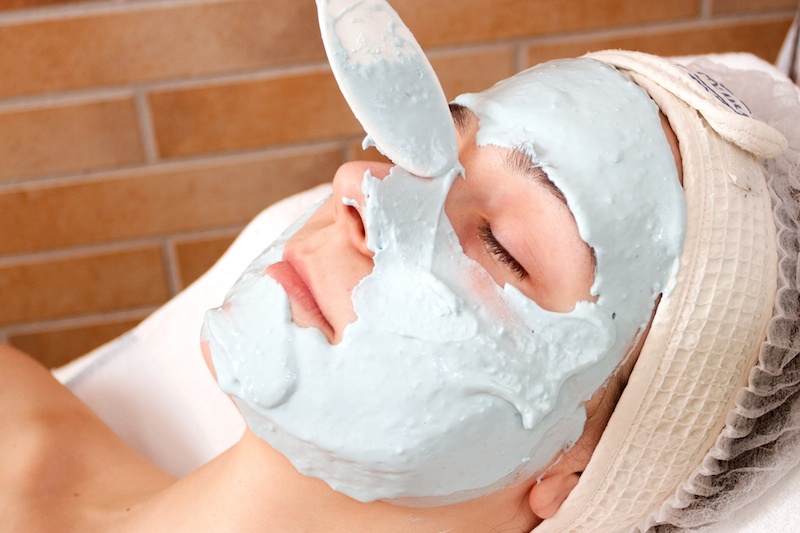 Cosmetic face masks can really work wonders! Algae, clay, yeast and even fruit face masks can help you with cleansing skin and preserving its healthy look. Learn which cosmetic face masks will be the most suitable for you and how to apply them.
How does a cosmetic face mask work?
Let us start form stating that face masks are multi-task products. Depending on the ingredients, they can moisturize, nourish or smooth face skin. Moreover, face masks facilitate removing dead epidermis cells, which in turn unclogs skin pores. Your face will breathe freely again and process of bacteria multiplication and sebum production will be stopped. Basically, such products are good at removing acne, blackheads and other skin imperfections that ruin our appearance. Additionally, face masks remove toxins, which have accumulated on both skin's surface and right underneath it. What is more, this kind of cosmetics take care of cleavage and neck skin as well.
Types of face masks: algae, clay, yeast, fruit, herbal.
Nowadays, the most popular are clay face masks. Green clay is recommended for oily, combination, and acne skin type. It has got mattifying and cleansing properties, and reduces excess of sebum. What is more, it is excellent not only at making acne marks dry but also at relieving skin inflammations. It has got anti-bacterial and smoothing properties too. Similar features are held by red, yellow, white and blue cosmetic clay.
Algae face masks are equally popular. They contain, among other, silica, calcium, magnesium, and iodine. Face masks including this kind of marine algae are able to cleanse face, regulate work of sebaceous glands, stimulate blood circulation and work relieving. In general, such face masks are recommended especially for people having oily or sensitive skin type. In fact, algae face mask can be applied on skin with dilated capillaries.
When it comes to yeast face masks, they have cleansing, nourishing, mattifying properties as they can significantly decrease amount of sebum production. How to prepare this kind of a cosmetic at home? Suffice to mix yeast with a half of a glass of warm milk and apply the mixture on the face. Rinse the yeast face mask with warm water after 15 minutes and put on your favourite moisturizing cream afterwards.
The least popular yet equally effective are fruit and plant face masks. In general, they have anti-bacterial, cleansing, nourishing and caring features. The plants and fruits which work in the above-mentioned manner are, to name just a few: chamomile, garden pansy, apple, mango, banana, and oil from broom tea-tree.