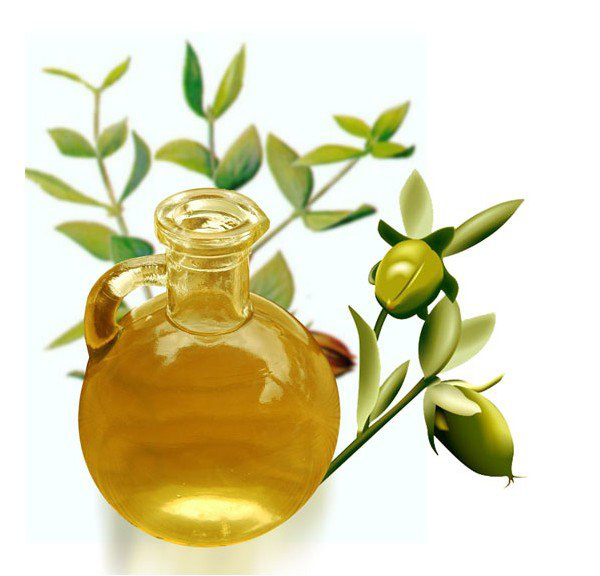 Precious jojoba oil is extracted from a shrub growing in Central America (mainly in Mexico, California and Arizona). The seeds of this plant are composed of 50% pure jojoba fatty acids. When the seeds are cold pressed, a yellowish oil of characteristic nutty flavour is obtained. Jojoba oil should be stored in a closed package, either at room temperature or in a fridge. What is more, this natural product cannot be exposed to sun rays and moisture.
Why jojoba oil is so effective for body and face skin care? The product contains substances that ale similar to the ones present on a human skin surface. The very substances are responsible for moisturization, care and protection. Additionally, jojoba oil is easy to apply and is absorbed quick, without leaving any oily stains on skin. What does jojoba oil contain? Its composition is full of, among others, squalene, saturated and unsaturated alcohols, fatty acids as well as A, E and F vitamins.
Jojoba oil is recommended for all skin types, even for oily and combination one. What is more, it has anti-bacteria properties, therefore it is able to decrease sebum production and at the same time reduce unattractive shining of face skin. Moreover, this natural product contains E vitamin, which if famous for regenerating dry and sensitive skin. It is also worth pointing out that jojoba oil is able to moisturize, soften and relieve inflammations of skin. Additionally, it smooths, nourishes, protects skin against both free-radicals and solar radiation, and yet this is not everything this product can offer. Jojoba oil can also smooth fine lines. Another thing to mention, this yellowish oil can be used for hand skin, nails and skin around eyes area care.
Jojoba oil can be applied not only on hair but also directly on scalp. If put on strands, the oil makes them shiny and smooth as it protects them from harmful working of sun rays and other damaging substances originated from the external environment. When jojoba oil is rubbed into scalp, hair roots become nourished which results in hair being strengthened and way healthier. What is more, this natural product eliminates dandruff and seborrhea of scalp. Last but not least, jojoba oil can be used as a hair mask for damaged hair or split ends.