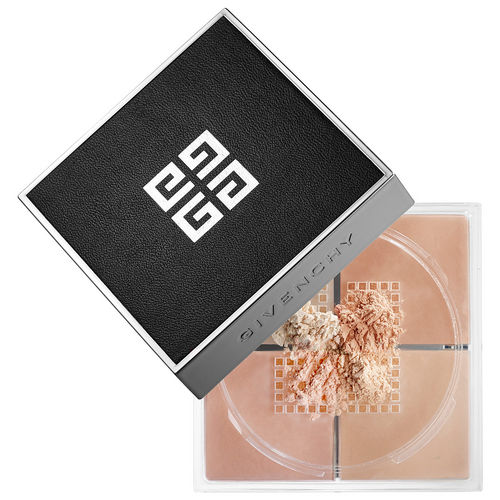 Loose powder is a colour cosmetic (as a bronzer and a blusher), that should be used for make-up finish. Thanks to such a product, we can obtain matte and natural effect on our face. What is more, a foundation fixed by a powder looks much better thanks to which a complexion gains naturalness. What are the other features of a loose powder and does Prisma Libre by Givenchy have the most favourable properties that every decent powder should have?
Givenchy brand offered five palletes of Prisma Libre powder. These are: Mousseline Pastel (shades of white, violet, blue, and green that are perfect for camouflaging skin imperfections), Taffetas Beige (shades of beige and brown), Organza Caramel (shades of beige, brown, and ecru), Satin Blanc (pastel colours of pink and beige) as well as Voile Rose (shades of light beige, ecru, and pink). Taffetas Beige and Organza Caramel gift face with warm and sun-kissed skin effect while Satin Blanc and Voile Rose makes skin face slightly highlighted. Naturally, palettes of Prisma Libre lose powder should be picked accordingly to skin type, its shade, and needs.
One package of loose powder by Givenchy was designed to facilitate combining all the shades at will. Thanks to this, we can obtain various effects of make-up – from highlighting to mattifying. What is the manner of Prisma Libre application? Obviously, start from unscrewing the cap to notice a kind of a strainer (a plastic plate with holes) where the cosmetic falls out from. Next, put the powder puff to the holes and distribute the shades mixing them and apply them on the face. You can cover your whole face with the product or just some parts of it.
Loose powder form Givenchy, Prisma Libre, is closed in a square box that has transparent walls. The upper part of the package is covered with the above-mentioned strainer, where you can get the cosmetic from, without distributing too much of it at once. What is more, the box is closed with a black cap. Inside, you can find also a round powder puff that is just ideal for applying the loose powder. What seems to be interesting, the strainer is designed in such a way to make all the shades possible to combine at a consumer's will. Certainly, each shade can be used separately which enables to produce various effects on face skin.