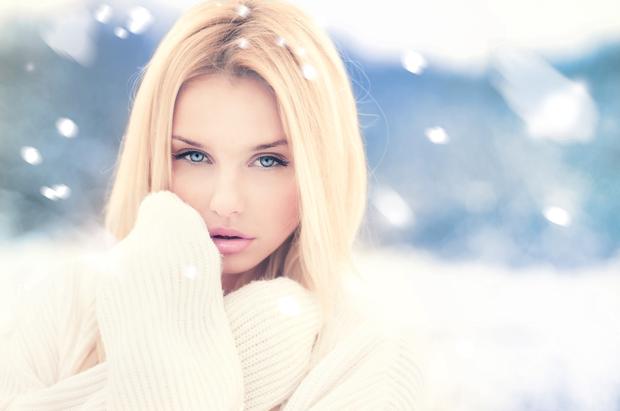 Winter. The great testing time for our delicate complexion. Freezing air may lead skin to become dry or make capillaries break. This cold state is also unfortunate for our lips. They are covered with extremely sensitive skin which, under such treacherous conditions, breaks and becomes painfully chapped. What is more, icy wind and snow might also ruin or precisely applied make-up. How to take care of both skin and make-up during harsh winter?
Care first!
It has been long known that make-up looks prettier on healthy skin. And the truth is, good care has to be taken of skin regardless of the season, yet mainly during winter. Therefore, it is advisable to apply oily creams in the evenings, and moisturizing, rich in vitamins and minerals creams in the morning. It is also crucial to exfoliate dead epidermis cells regularly. Thanks to face scrubs, skin becomes smooth, radiant and fresh all winter long. Additionally, it will absorb care products, along with all the ingredients included in them, way better.
Winter make-up.
Let us start with a make-up base. Such cosmetic contains plenty of functions and properties. Firstly, they nourish and supply skin with all the essential vitamins. Secondly, they even skin tone, help with eliminating skin imperfections, regulate work of sebaceous glands and highlight complexion. What is more, one can also make use of a decent concealer or a foundation for applying winter make-up. If you have only small discolourations, than there is no point in covering whole face with the foundation. On the other hand, make your skin tone even by applying a thin layer of this colour cosmetic when you have scheduled an important meeting that day. Let us face it, complexion covered with the foundation looks more elegantly. After that, fix the make-up using either a mineral or a transparent pressed powder. It is crucial though, to pick the powder which will match at the same time both your skin tone and the applied foundation. For make-up finish, use a highlighter or a blusher. Apply one of the products on the top of cheekbones.
Eye and lip make-up.
Do not forget to pick the right cosmetics for eye and lip make-up. Such products should contain hydrating and cold protection features as should they be resistant to moisture. For lip make-up precisely, use a lip balm that include E vitamin, cosmetic butter or other oiling substances. Avoid lip glosses which can lead to drying-out of lips. In winter, it is a good idea to coat eyelashes with a waterproof mascara. Such a product will hold untouched even during the fiercest blizzard.