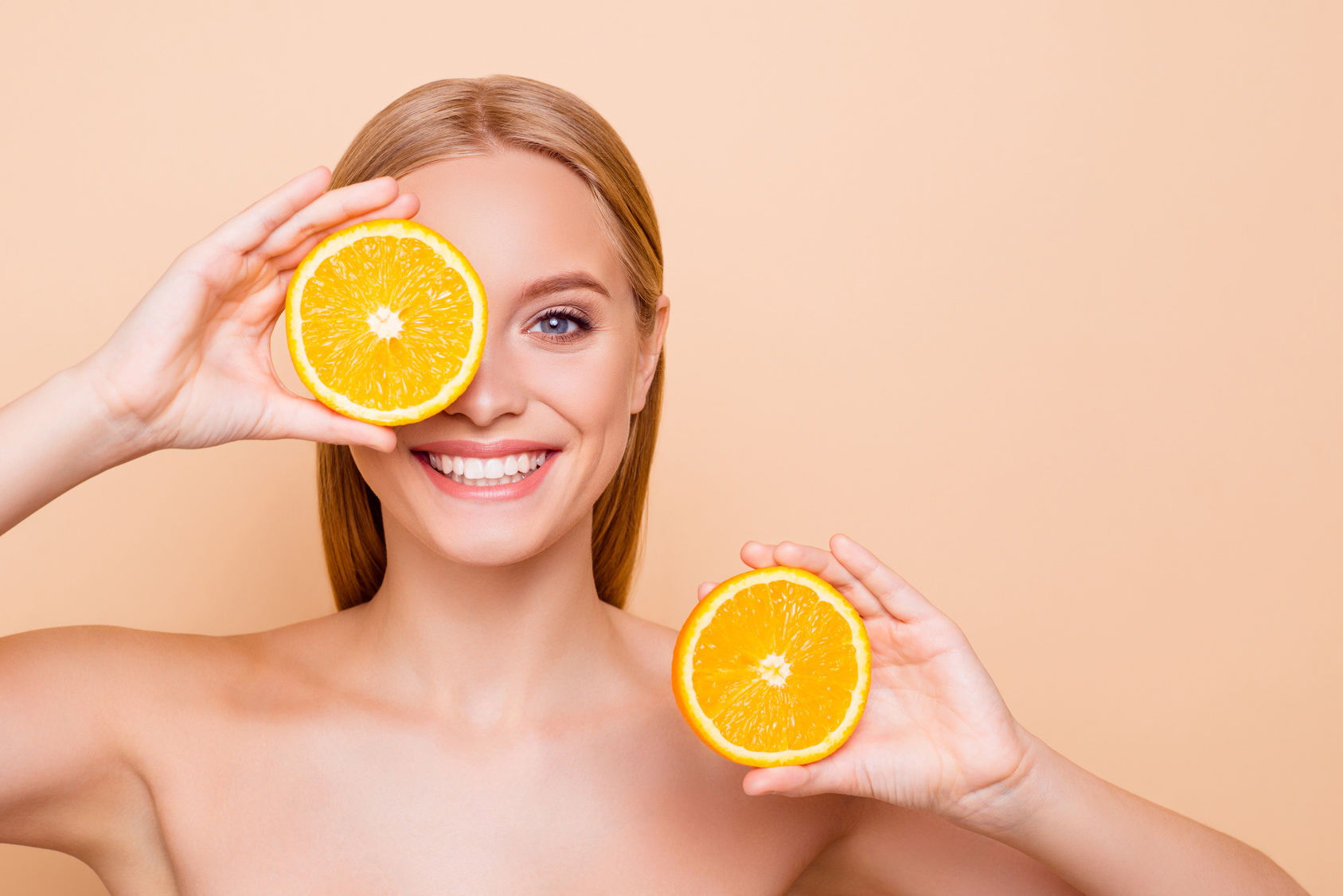 It's just dawned on you that vitamin C is not merely an immune system booster? It also makes skin look younger, adding glow and radiance! It's high time you found a perfect cosmetic featuring ascorbic acid. Where to look for a fine-quality vitamin C and which products are noteworthy? Read the post and learn to find your way through the maze of vitamin C moisturizers, serums and masks.
Qualities of vitamin C
Skin products featuring vit. C make a very good choice. It isn't just a passing fad. The properties of ascorbic acid are priceless. This inconspicuous, underrated vitamin:
stimulates synthesis of collagen, improving elasticity;
is a powerful antioxidant, fighting free radicals;
has antiaging effect, naturally delaying the process of aging;
guards from the sun, or to be more precise, from UV radiation;
seals blood vessels and prevents the appearance of broken capillaries;
reduces pigmentation spots, illuminating and brightening the skin.
Let's remember, though, that not all forms of vitamin C have the same effect. A random moisturizer including vit. C might be not enough to give you desired results.
Vitamin C-based cosmetics
What kind of vitamin C products are worth looking at? There's an impressive range of possibilities, including creams, serums, masks, ampules and sprays as well as nutrient-dense makeup removers.
Nevertheless, serum with vitamin C takes the lead. It's best because it has the highest concentration of ingredients and is highest in precious ascorbic acid, plus its light formula eases absorption and makes the product more efficient.
Types of vitamin C in skin care products
Natural vitamin C, or ascorbic acid, is unstable. It breaks down rapidly and is unable to reach the deepest skin structures without the aid of extra ingredients e.g. fatty acids.
There are a few forms of vitamin C infused into cosmetics thanks to being more stable. Their INCI names:
Ascorbyl Palmitate
Ascorbyl Glucoside
Tetrahexyldecyl Ascorbate
Magnesium Ascorbyl Phosphate
Sodium Ascorbyl Phosphate
Ethyl Ascorbic Acid
Which form of vitamin C makes the best choice? What should a quality product include? This key question must be answered before you set off for stores. Choosing just a random serum with vit. C doesn't mean you receive a good cosmetic.
Which vitamin C is best?
Out of the above-mentioned forms, the last one is the most stable, effective and advanced. Ethyl ascorbic acid preserves all properties of vitamin C, is water-soluble and absorbed into deep skin layers more easily.
Still, if you can't find ethyl ascorbic acid on the INCI list, you can try a product featuring pure vit. C (ascorbic acid). Be careful, though. If the serum contains a natural, base form of vitamin C, it should also include oils since fatty acids help transport vit. C into inner skin layers.
Other sources of vitamin C
What else to search for in skin care products if we want to deliver ascorbic into the skin? Plant extracts, that's for sure!
Natural sources of vitamin C include sea buckthorn (Hippophae Rhamnoides), rose fruit (Rosa Canina Fruit), acerola (Malpighia Punicifolia or Malpighia Glabra) and blackcurrant (Ribes Nigrum). Check your face serums or night moisturizers for these ingredients. They make up a rich source of natural vitamin C.