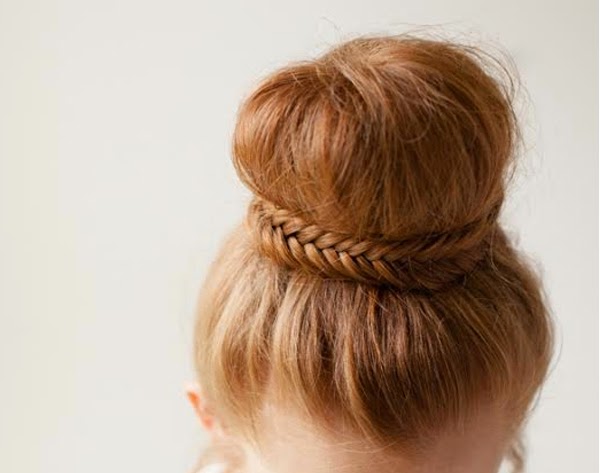 Plait is a timeless hairstyle that suits everybody regardless of their age or occasion. Bun, in turn, is this kind of a hairdo that gives us elegant and professional look. What will we come up with if we combine plait and bun together? As a matter of fact, we will produce an ideal hairstyle for family supper that is scheduled, for example, at Christmas.
Before we start braiding the plait, it is suggested to comb hair precisely. You can apply a moisturizing conditioner or an extra-hold styling mousse, if you wish. To make styling your hair easier, dry it using a round brush and then straight it. As it is not hard to guess, women having long and mid-length hair will encounter way less difficulties with doing plait & bun hairstyle than those women who have got rather short hair. Furthermore, this hairsdo will look good on both blondes and brunettes.
Let us start. Decide on which side of the head you are going to do the plait. Separate a thin streak of hair near the forehead. This very streak will pose the beginning of the plait. Next, start braiding the plait along your face, picking another streaks and attaching these to the already made coil. Remember, make the plait solid and firm. For that reason, braid all the successive streaks tightly. Stop taking the new streaks somewhere near ear. Make a tight, classic bun on the streaks that have been separated on the tip of the head. Tie the ending with either a transparent rubber or a one that has similar colour to your hair. Move the plait from one side of the neck to another in such a way to make it surround hair, which are gin to compose the bun.
Tie the hair separated for the bun with a rubber. After that, apply a bun filler and set out hair on it. Support the hairstyle with a rubber. When it comes to the overhanging streaks, entwine these around the bun and support the 'construction' using hairpins. At the end, wind the plait around he bun and also support it with hairpins. Obviously, you are free to use any decorative hair clips or other interesting hair accessories as long as these match the clothes you are going to wear during this special evening.