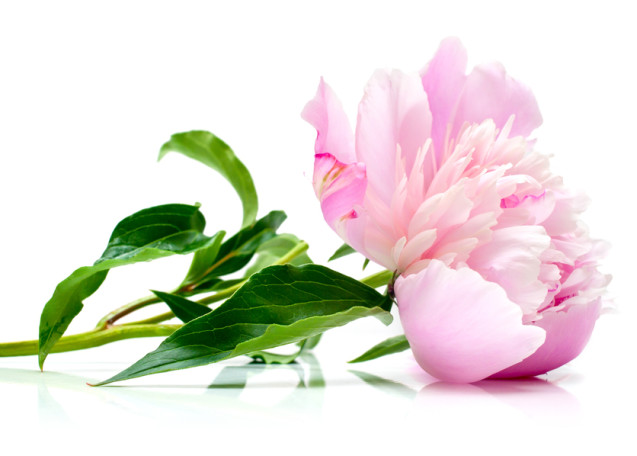 Peony is commonly known as a medical herb. Its blossoms are picked up in June and the root is removed from the soil either in the spring or in the autumn. When appropriate amount of this raw material collected, one can prepare not only delicious tinctures but also precious natural cosmetics. Worth pointing out, peony's blossoms are able to improve blood circulation and counteract skin cold cracking. Furthermore, this plat has relieving substances as well as anti-allergic features. What is more, peony is one of natural tranquilizers. When it comes to the root, it reduces excessive sebum production, protects skin form damaging working of sun rays and counteracts sun induced pigmentation marks. What is more, peony's root has power to make skin more elastic as well as facilitates acne and atopic dermatitis treatment.
As mentioned above, peony is a wonderful component of, for example, a toner, an infusion or a tincture. How to prepare these? Peony toner may be applied on swelled up and fatigued eyes as well as on acne that covers not only face but also cleavage and upper part of back. Basically, it is suggested to take cotton pads, damped with a peony toner, and rub skin where needed. The cotton pads can be as well put on eyes for several minutes to relieve the swellings.
And how to prepare peony's blossoms infusion?
Start with boiling fresh water. Then, pour it into a glass and mix it with one big spoon of peony's blossoms. Cover the mixture and leave for approximately fifteen minutes. After that, pour the mixture through a strainer. Generally it is suggested to drink the infusion slowly, taking small sips.
Peony's root is a perfect component of homemade tinctures. Crushed root has to be covered with 0,5 liter of 40-70% alcohol or with strong red wine. Leave the mixture for approximately two weeks and then pour it through a strainer. Worth adding, the peony tinctures works wonders in terms of acne and various lesions healing. Such an application has to be repeated two or three times per day. If consumed, the peony tinctures counteracts excessive hair loss and relieves symptoms of various common diseases and popular ailments that tend to affect humans.
What is more, one can prepare numerous decoctions and compresses using peony as the base ingredient. Obviously, compresses should be applied on the very places that are affected by a particular disease. When it comes to decoctions, these are prepared using peony's roots covered with a glass of fresh water. Then, it has to be put on a cooker and boiled for approximately fifteen minutes. After that, the mixture should be poured through a strainer. Such a decoction is recommended to be drunk when one experiences digestive and respiratory problems.