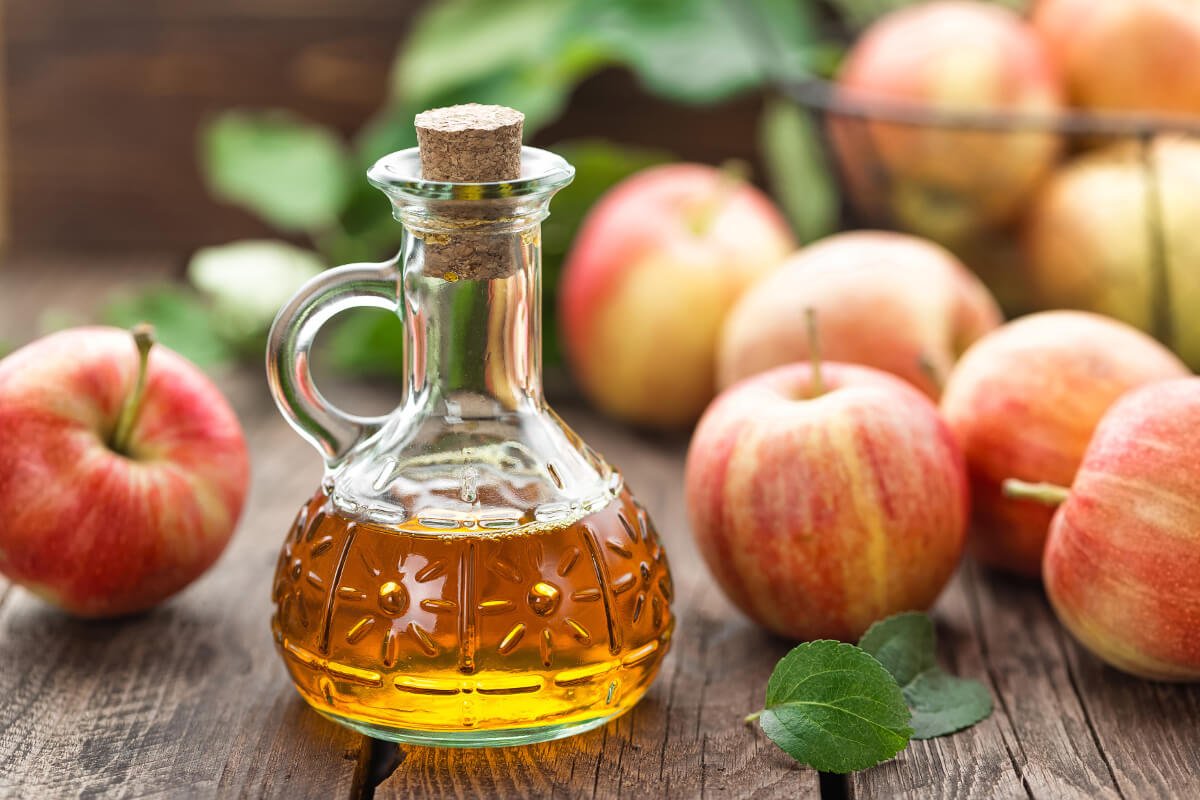 Vinegar is an irreplaceable beauty product that nature has presented us with. Take it from the kitchen to the bathroom from time to time. You can use fruit vinegars to enhance your hair because they are cut out for this purpose. What effect do they produce? Which one to pick? How to use them?
Natural beauty solutions are simple and practical. They show us there are so many widely-available products within our reach. Vinegar is a good example – the product is made during the fermentation of fruit like apples, grapes or raspberries. It's been known for ages and has always been used in beauty routines. Now it's taking the beauty blogosphere by the storm. Let's get to know it better!
Vinegar and benefits for hair
Fruit vinegar can be used on all types of strands but it works best for frizzy, shineless, color-treated hair. It's a saver for any hair that tends to get out of control. Vinegar is great to use on hair that is hard to detangle. Thanks to the amazing properties, fruit vinegar is able to smooth hair out provided that you use it right after shampooing. It's good to use it when you want to protect the hair color and keep it fresh. Fading color is very common but vinegar is able to revive it. Besides that, this simple product is able to add gloss to hair and make it smoother. It often happens that frizz, coarseness and dullness is caused by raised hair cuticles which can be smoothened by fruit vinegar.
Types of fruit vinegars
If you want to use vinegar on hair, there are several options to choose from. Actually any fruit can be used for making vinegar but there are a few that enjoy great popularity in hair care.
Apple cider vinegar is surely one of the best known vinegars. It contains around 20 minerals, beneficial acids (lactic, acetic, malic), amino acids, bioflavonoids, beta-carotene and vitamins B, A, C, E. This vitamin bomb makes hair better looking and aids in treating different scalp conditions.
Raspberry vinegar doesn't smell like fresh raspberries but it's also rich in bio-active compounds, anthocyanins, vitamins (B, C, E) and minerals (potassium, calcium, magnesium and zinc) giving it the power to revive shine and health of hair fast.
Grape vinegar extracted from grapes is known for antibacterial and antioxidant properties because it contains resveratrol – a strong antioxidant. It's also a source of minerals (including zinc essential for healthy hair) and vitamins A, C, E.
What effect does a fruit vinegar have on hair?
Why use fruit vinegar in hair-care routine? The key thing is it has an acidic pH so it's able to acidify the hair. Simply put, it restores the pH balance which is usually disturbed while shampooing. In practice, fruit vinegar:
seals open cuticle scales.
makes hair smoother and eliminates coarseness.
makes brushing easier.
enhances hair color and shine.
helps keep hair healthy.
Fruit vinegar hair rinse
Mixing water with vinegar is the easiest way to make use of vinegar in hair care. This hair rinse has superb effects because it smoothes cuticles after washing. Shampoo your hair and rinse it with raspberry, apple or grape vinegar blend.
The recipe for a DIY vinegar hair rinse is very simple. You can get a readymade product but natural solutions usually prove better. Mix half liter of lukewarm boiled water with a spoon of chosen fruit vinegar. A little effort for great effects!