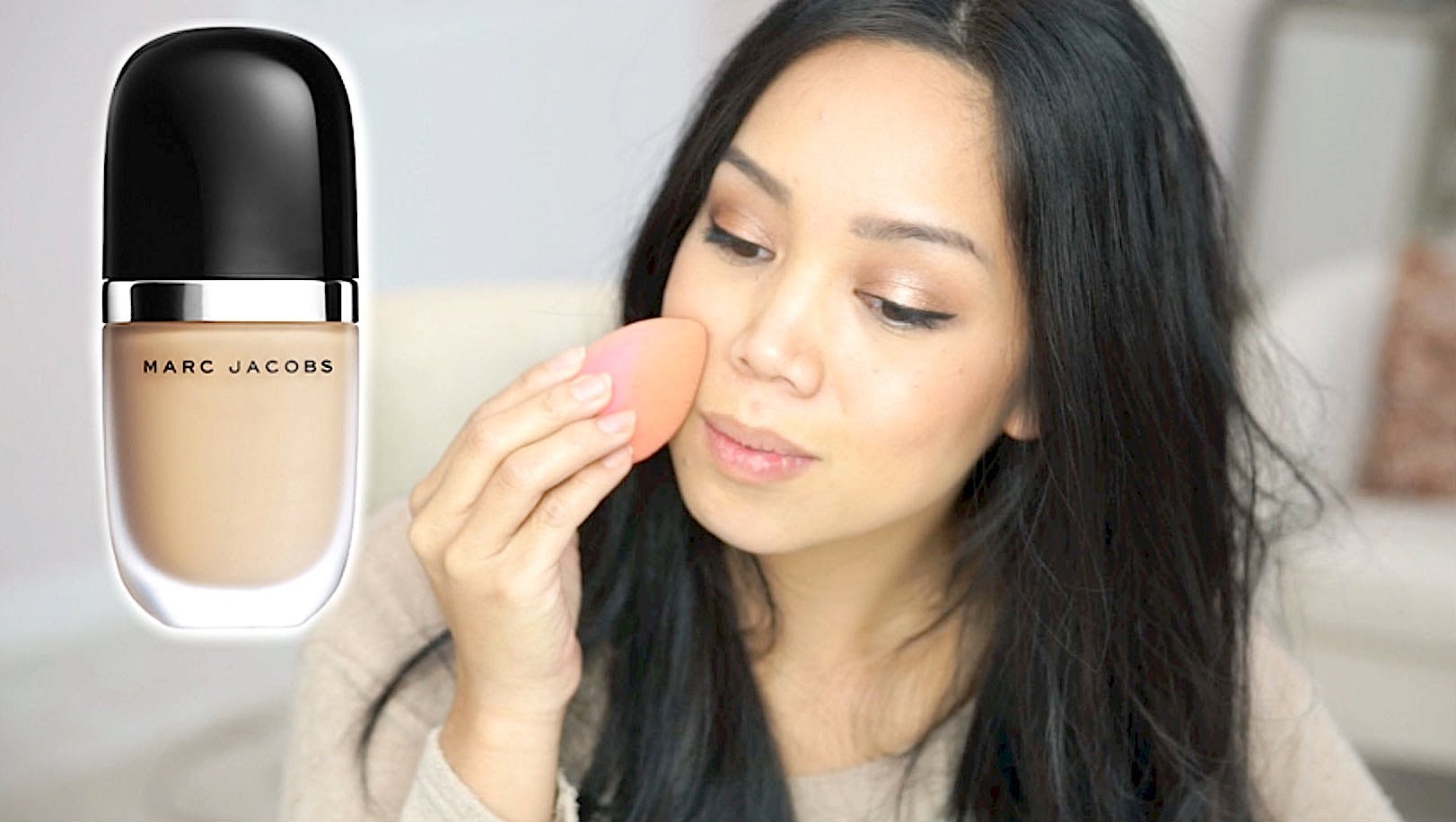 Undoubtedly, many women know how hard task is it to pick the right make-up foundation. Basically, we have difficulties with choosing matching shades, appropriate texture and properties of this colourful cosmetic. Have you given a try to a multi-task Genius Gel Super–Charged Oil–Free Foundation from Marc Jacobs Beauty? Maybe it will appear to be the only one, long looked-for product designed especially for you?
Genius Gel Super–Charged Oil–Free Foundation from Marc Jacobs Beauty is closed in a good-looking and minimalistic package.The silver stripe separates a black cap from the glass bottle, where the cosmetic is stored. The glass part is decorated with the black brand's logo. Another thing that catches attention is the dispenser. It has a form of a pump, due to which, we are able to distribute the very amount of the cosmetic required for a single coat of the foundation.
Marc Jacobs Beauty brand supplies women with a wide range of colour scheme. Thanks to this, each consumer will find the right shade corresponding with their complexions. To illustrate, Genius Gel Super–Charged Oil–Free Foundation is available in the following shades: 10 Ivory Light, 14 Ivory Medium, 22 Bisque Light, 26 Bisque Medium, 32 Beige Light, 34 Beige Medium, 38 Beige Deep, 42 Golden Light, 44 Golden Medium,  46 Golden Deep, 62 Fawn Light, 64 Fawn Medium, 66 Fawn Deep, 82 Cocoa Light, 84 Cocoa Medium as well as 86 Cocoa Deep.
This multi-task gel foundation from Marc Jacobs Beauty provides natural make-up finish and grants comfort of wearing. Other advantages of the product is that is holds long on face and neither becomes darker nor wears off throughout a day. Moreover, it builds up giving so-called medium level of coverage yet we can intensify this level at our will. Another thing to point out, the cosmetic is good at decreasing visibility of wrinkles, discolourations and other skin imperfections. When it comes to a manner of application, Genius Gel Super–Charged Oil–Free Foundation can be put on using either a make-up sponge or just fingertips. Nevertheless, because of the unique texture of the cosmetic, it will be easier to apply it with the aid of a wide brush.
The foundation from Marc Jacobs Beauty contains ingredients which are able to take care of face skin and facilitates its flawless look. These precious substances are, among others, vitamins, peptides, powder of light reflecting properties as well as pigments. The last piece of information, if you really want to make your make-up look splendidly, it is advisable to use Under(cover) Perfecting Coconut Face Primer also from Marc Jacobs Beauty. The cosmetic is sold in the same glass bottle as the above-reviewed foundation yet the colour of the glass and the cap is white.