Hyaluronic acid is a book-size topic that happens to have a lot in common with water and hydration. Studies showed that the abilities of hyaluronic acid to attract H2O molecules and lock them in skin are so high that there is no other natural substance known to humans that may be as effective as this natural constituent of our skin is. Owing to hyaluronic acid, our skin remains resilient, supple and adequately hydrated.
What may be surprising is the fact that there are a few forms of hyaluronic acid, and therefore choosing the right one may be pretty confusing. If you don't want your next skin care product with hyaluronic acid to be a shot in the dark, lay your trust in the best face serum launched by Nanoil – Hyaluronic Face Serum.
What can you expect from hyaluronic acid?
Hyaluronic acid is something more than just a "cool" moisturizer since it's an essential constituent of young and beautiful skin. This substance is a building block of almost all tissues and is present in all living organisms.
One can compare hyaluronic acid to an elastic binder that ensures skin suppleness and resilience. Since it takes an active part in collagen synthesis, hyaluronic acid is believed to be one of the main substances that helps us look young. In addition, it prevents TEWL (transepidermal water loss) and reduces wrinkles, provided that used regularly. Aren't those reasons enough for you to use hyaluronic acid on a daily basis?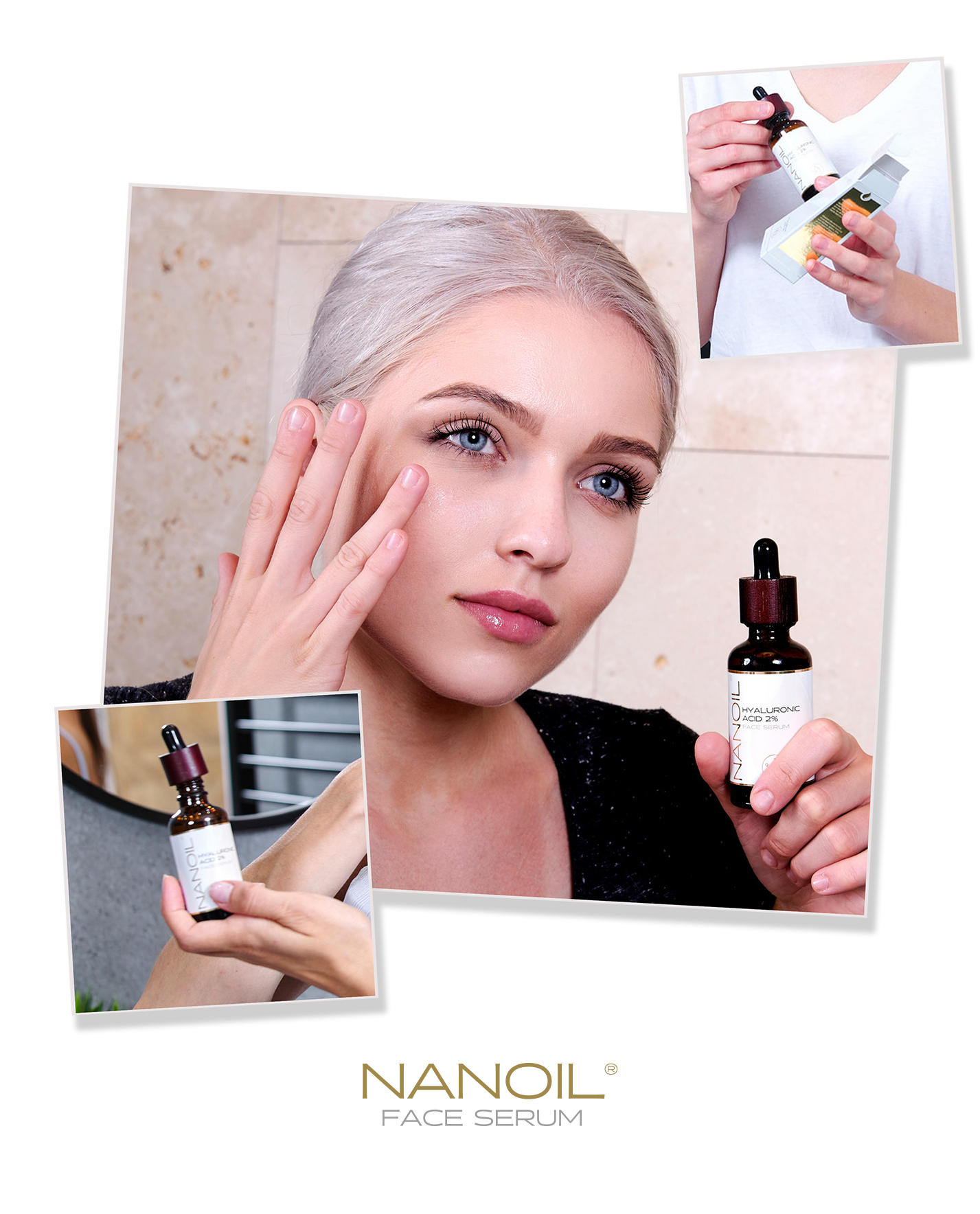 What hyaluronic acid to choose?
Of course, the best one! This means that you should reach for the hyaluronic acid that is able to penetrate epidermis to reach deeper. The very effect can be achieved only by using a skin care product that fulfills two conditions:
has a lightweight and well-absorbed consistency
contains 100% pure low molecular weight hyaluronic acid
Nanoil face serum with hyaluronic acid
This is the very face serum you're looking for. The only such serum that is effective in replenishing your skin with moisture. The good news is that Nanoil Hyaluronic Face Serum is well-tolerated by all skin types. It's able to penetrate skin deeply to start improving it gradually, day by day. What's interesting, the remaining constituents of this serum are responsible for enhancing the effectiveness of hyaluronic acid.
Nanoil face serum equals high efficiency and high performance. Since this product is able to reach deeper than a regular face cream or a face mask, you can expect it to give you better results in the form of regenerated and moisturized skin. It's nothing but a youth elixir!
Comments on Nanoil Hyaluronic Face Serum
This skin care product launched by Nanoil seems to be currently the highest-rated hyaluronic acid face serum on the market. The users confirm that the effects live up to their expectations. As it can be read in online reviews, Nanoil face serum nourishes and moisturizes skin deeply, ensures reinforcement and resilience improvement that lasts all day.

How to use Nanoil Hyaluronic Face Serum?
Use this Nanoil serum twice a day. Since hyaluronic acid likes water, you can try applying it to a face that has been just wiped with a tonic or herbal distillate/herbal water. Massage the serum genetty with your fingers and let the skin absorb it fully. If you want to, you can mix it with a small portion of:
water
herbal distillate/herbal water
face tonic
natural oil
other Nanoil face serum
In this way you will create a skin-improving cocktail that you will fall in love with! Also, you can add a few drops of the serum to any of your favorite skin product, even to an eye cream – this will boost the effectiveness of the chosen cosmetic.