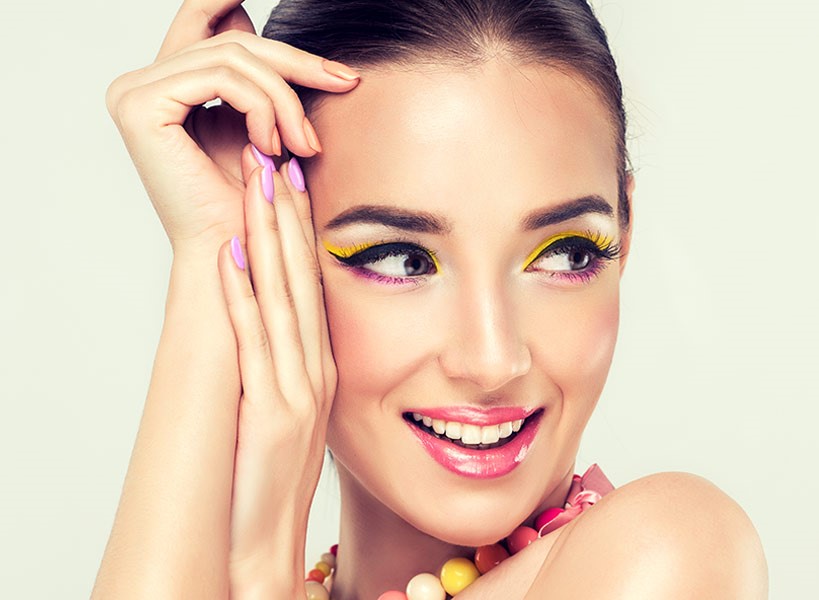 Definitely, succeeding in doing long-lasting make-up on oily skin is a real challenge. Regardless the cosmetics used, our face skin will always shine after several hours of wearing make-up. Obviously, we can apply greater amounts of a powder but, in the end, this technique will not bring any help and all that we will obtain is a mask-like effect. So what should be done? Learn several tricks that are going to facilitate making make-up last longer on oily skin.
Firstly, moisturization
It may seem that oily skin does not require moisturization. Unfortunately, nothing could be further from the truth. Each type of skin needs water or oil substances. For that reason, if you have oily skin, choose only light and sheer cosmetics of moisturizing properties, which composition lacks of artificial substances. In other words, you have to search for products containing only the ingredients that do not clog pores and are not responsible for developing acne. Remember to apply a moisturizing cream on neck skin as well and let it get absorbed completely. After that, you can do make-up.
Secondly, make-up base
This cosmetic is good at prolonging durability of a foundation. Naturally, try to buy the make-up base that answers your skin needs and its type. Mattifying and silicone cosmetics will do. What is more, such product should have light, oil-free texture. Pat the make-up base using fingertips and give it a while to get absorbed into epidermis totally.
Thirdly, concealer
The best ones are anti-bacterial concealers, the ones including zinc in their composition. This element is widely-used in medicine for fighting against acne. Furthermore, the concealer has to be characterized by light formula. Basically, if your skin is oily, reach for stick or cream concealers. Liquid concealers can be also applied but only in minimal quantities.
Fourthly, foundation
The packages of foundations destined for oily skin should contain 'oil-free' inscription. In such a case, you should look for mattifying colour cosmetics that contain silica, talcum, or mica. As it is not hard to guess, foundations for oily skin can be neither dense nor heavy. The best manner of applying this kind of product is stamping face with a wide and flat brush. It is worth remembering though, the shade of your oil-free foundation has to be one or two tones brighter than your skin tone.
Fifthly, transparent powder
When you finish doing your make-up, do not forget to fix it with a transparent powder. This type of a powder is the best one available for oily skin because it does not only make face matte but also blends with skin and foundation shade perfectly. Apply the powder using a big and soft brush. Sweep the face gently since glut of matte is not so trendy this season.
Sixthly, oil-blotting paper
If you are an oily skin owner, carry this gadget always with you. Thanks to oil-blotting paper, you will get rid of the unwanted excess of sebum that is produced by your skin everyday. When you finish using such paper, dab your face with the transparent powder.