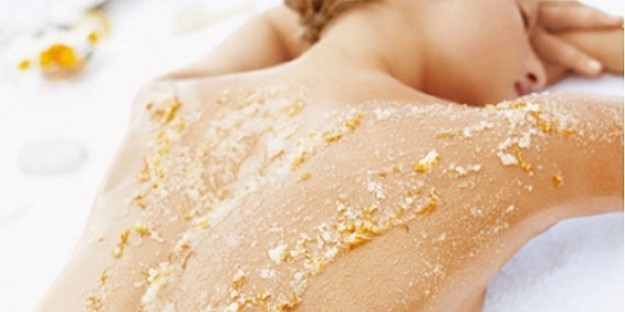 Skin exfoliation treatment is an excellent way of making skin purified and smooth. It is even more favourable, when the exfoliating cosmetic comprises of high quality natural substances. Here it is a recipe for a chamomile scrub. In order to prepare your homemade, natural scrub, you are going to need: a half of a glass of white sugar, a spoon of dried chamomile blossoms, a teaspoon of dried nettle, a spoon of olive oil, a teaspoon of honey and ethereal oil at will. Take a mortar and pulp the chamomile and the nettle inside it. Then, combine the herbs with the reminding substances, in such a way, to obtain a product of appropriate consistency. The scrub has to be applied on damp skin. Basically, it is suggested to perform  skin exfoliation treatment before hair removal or before application of a moisturizing lotion or a self-tanning cream. What is gained thanks to application of the homemade chamomile scrub? Definitely, such a treatment improves blood circulation, smooths body skin, regenerates, nourishes and accelerates cell renewal processes.
Naturally, instead chamomile, you can add any other herbs that you really are fond of. But still, it is worth focusing on the properties that are carried of these white and yellow flowers. First and foremost, chamomile is a medical herb. It contains, among others, anti-oxidants and C vitamin. What is more, chamomile works anti-inflammatory, anti-bacterial and relieving. Furthermore, it helps reducing swellings under eyes, skin irritations and acne marks. For that very reason, it is widely used in cosmetic products destined to sensitive skin type and delicate baby care. Basically, chamomile hair washes are applied for lightening strands up.
And what are the properties of the second natural component of your homemade scrub – nettle? Alike chamomile, nettle is also a medical herb. It contains, among others, magnesium, phosphorus, iron, silicon, A, K B2, C vitamins as well as anti-oxidants that neutralize free-radicals. Generally, nettle is popular as a remedy for acne, dandruff and seborrhea.