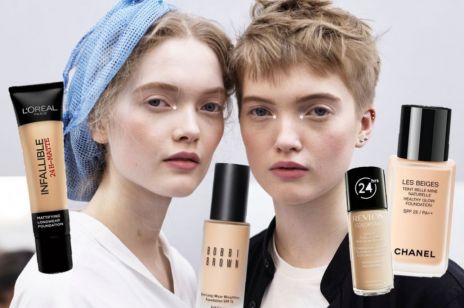 The right base is a secret to flawless, long-wear make-up. Professionals reach for a bit more than a moisturizer or face oil. Check the best make-up primers and benefits you can get from using them on a daily basis.
Most of us don't use make-up primers every day. Is this wrong? It depends on the effect you desire. If you don't want long-wear make-up, perfect finish and blemish-free skin – you don't need a primer. In all other cases, you should definitely have it on every day since a make-up base has more benefits than downsides.
A make-up primer. What kind of product is this and what benefits it has?
Let's start with a quick description of what makeup primer actually do. We use them rarely so we might have problems with defining their purpose.
A make-up base, or primer, is meant for making make-up last longer, even up to 12 hours! How come it's possible? It's the effect of using certain ingredients that reduce direct contact of the skin with the foundation by creating a proper base.
Of course, there are various make-up primers and they may act in various ways. The most popular division lists:
mattifying make-up primers,
smoothing

make-up primers,

illuminating

make-up primers,

moisturizing

make-up primers.
What's interesting, lots of products we use daily can actually act as make-up bases. Try a toner, serum, moisturizer, mist, powder or oil – they leave a film on the skin, priming it for make-up. Of course, you need to pick the right ones for your skin type and needs. An oil smoothes skin, moisturizes and boosts radiance whereas a rice powder gives a matte effect.
How does a make-up primer work and which one to choose? [TYPES]
You can get lots of info by just looking at the names of products: if it's mattifying, it must be reducing shiny T-zone in oily skin. On the other hand, a smoothing base works great for aging skin with fine lines and minor imperfections.
Here are the types of make-up primers, their uses and effect.
1. Silicone make-up primer makes a perfect pick for dry or mature skin because it locks in water and makes skin smoother. It goes along with lightweight, water-based foundations. A silicone primer isn't rinsed with water so you shouldn't match it with a waterproof foundation. The excess of silicones might clog skin pores.
2. Oil-based make-up primer has a similar effect because it creates an occlusive coat on the skin's surface which prevents dehydration as well as primes skin for applying foundation. What's interesting, natural pure oils are amazing primers in this category e.g. raspberry seed oil, jojoba oil or beautifully-smelling rose oil. Oil-based primer is the best match for mineral, dry and light foundations.
3. Glycerin make-up primer boosts moisture thanks to hygroscopic properties of its main ingredient. It works best with water-based foundations. It might cause mineral foundation to separate.
4. Silica make-up primer isn't that popular but it's natural and has a great mattifying effect. It effectively smoothes skin and lessens visibility of imperfections but – too bad – it might enhance dry patches so it doesn't work for dry skin.
5. Gel make-up primer is the lightest, fast-absorbed and doesn't leave a greasy film on skin. It is ideal if your skin is oily. Not only does it moisturize but also smoothes skin and makes skin pores less visible. You can use it together with mineral foundation.
6. Fast-drying make-up primer works when your skin is problematic. It effectively mattifies, absorbs sebum, reduces visibility of pores but it doesn't have as intensive occlusive effect as silicone primers. The main ingredients of this type of bases include aluminum, magnesium aluminum silicate and boron nitride. Benefits? It's easily removed. Minuses? It's hard to smooth it over the face and the formula isn't right for dry skin.