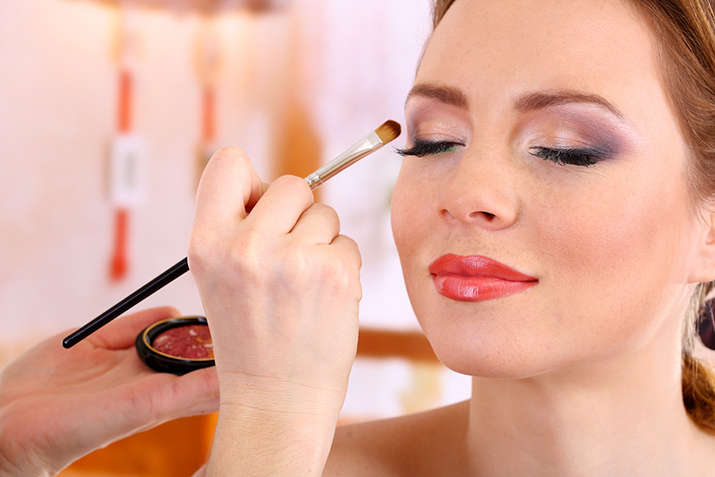 We know it well that during these magical days at the end of each year you want to look gorgeous and elegant. Luckily, there are a few simple and budget-friendly makeup tips that will help you look so amazing that your family and friends will be ravished by your beauty. Learn these makeup ideas that will make you look fabulous at a holiday party, family gatherings and balls.
Holiday Makeup Ideas for Family Gatherings: Elegant yet natural-looking effects
1. Moisturize the skin
No doubt, moisturized skin is the core of good-looking makeup that will last unspoiled for a few hours. It's super important to keep the skin replenished with water because in this way it won't be necessary for you to apply a few layers of color cosmetics, hence no mask effect. There is just one thing to remember: before applying makeup, put on some moisturizer and wait until it penetrates your skin fully.
2. Apply the foundation
There are two things to bear in mind while choosing a foundation for your holiday family gathering. On one hand it has to sit on your face for the entire evening but on the other it can't be too overburdening for the complexion. To fulfill both of the requirements, try choosing a medium-coverage foundation and put it on using a flat brush. Instead of smearing the foundation all over your skin, it'd be better if you just stamped your face with the brush, paying extra attention to various creases such as these around the nose.
3. Use an eye pencil
No matter if you're attending a Christmas Eve supper or holiday family gathering, this is the perfect time to define your eyes stronger than you normally do this. Reach for a soft eye pencil (e.g. pearl) to bring out these pretty eyes of yours. It's a good idea to pair the eye pencil with some luminous eye shadows that will add more charm and chic to your appearance. Naturally, don't forget about a good mascara. Since holiday season and family gatherings are pretty touching events, you better reach for some waterproof mascara – you probably won't be happy to notice in the middle of the supper the mascara coats have run down your face together with tears triggered by intense emotions.
4. Apply a lipstick
Once you take your seat at the holiday table, you begin eating, drinking and snacking, and this is why you should use lipstick that will endure all these activities. This time use either a super long-lasting lipstick (matte would do) or a lip tint that will colour your lips for a few hours.
Holiday Party Makeup Ideas: Radiant and alluring
1. Make your skin ready
Again, replenish your skin with moisture to extend the wearability of the foundation. Holiday party makeup can be a little bit more crazy then the one you applied to the family gathering, therefore you can try some luminous fluid featuring some shimmering particles – you'll make an electrifying impression on your mates.
2. Define your eyes
Apply golden or copper eye-shadow to the upper eyelids and define the lash lines with a brown (e.g. chocolate) eye pencil. Undoubtedly, a holiday party is a good moment for you to attach false lashes, yet you don't have to do this if your natural eyelashes are already gorgeous (e.g. you use an eyelash serum).
3. Do lip makeup
You don't have to paint your lips blood-red if you're going for a holiday party. You'll look good if you subtly accentuate them with some nice and shimmering lipgloss that will get you natural-looking shine.
Holiday Ball Makeup Ideas: Heavy evening look
1. Choose a long-wearing foundation
Reach for a foundation that will neither run down your face nor mix with the sebum. It's also advisable to choose a lightweight eye concealer or an eye cream that nourishes the skin and leaves this often troublesome under eye area brighter.
2. Get the right powder
Did you know that a regular white bamboo loose powder is able to get you long-wearing makeup and additionally create a so-called soft focus effect? Put simply, such powder is known for bouncing back the light so that your complexion looks gorgeous no matter the lighting. Just dust your face with it and you can take it for granted that you will look fabulous in the pictures taken during the party.
3. Define the eyes
Just cover the eyelids with a bright and pearl shade of a chosen color. Accentuate the corners of the eyes with a few-tones-darker color. This is how you will create depth. Don't forget to use black liquid eyeliner and attach some false eyelashes to get you a more alluring look.
4. Get carmine lips
We're almost one-hundred percent sure that you would agree with us that there is no better type of lipstick to wear for a holiday ball than a carmine-shaded one. Apply it carefully to the lips and follow with a loose powder. Then put on another coat of lipstick. Why should you do this in this way? Simply to get a long-wearing effect.