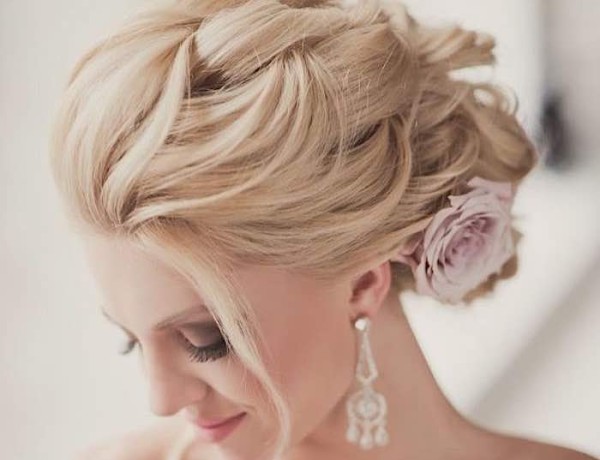 On the wedding day each woman wants to look the most beautiful she possibly can. Naturally, the most important is the wedding gown and the perfectly organized wedding reception. Yet, we shouldn't forget about a hairdo and a veil since these two elements are crucial to top the entire image of a bride up. Learn which wedding hairdos are the most astonishing.
Spanish Veil
What is so characteristic about this headwear? In short, this is a long veil decorated with lace. It matches long and plain wedding gowns. One of the greatest advantages of Spanish Veil is its ability to optically lengthen the body shape. This type of a veil goes with a smart, plain hairdo. Certainly, the way hair is tied up has to go hand in hand with the style of the wedding headwear. For that very reason, you have to keep in mind that hair shouldn't be styled too much. Why is that? Firstly, because it may distract the attention from your wedding stylisation, and secondly, it's rather highly possible that Spanish Veil will completely cover this little piece of art (your sophisticated hairdo). So which hairdo to choose for Spanish Veil? The best are: waved hair, loose low bun or loosen hair.
Boho Veil
This decoration suits the pure romantic hairdos. Therefore, all possible curls or delicate waves, plaits or buns and even part of hair gathered and tied on the back of a head will be ideal in this case. What is more, parting has to be located precisely in the middle of head as the strands need to be smoothened. Indeed, we associate Boho style with nature, subtly and delicacy. For that reason, make-up, a wedding gown as well as all the accessories should be similar in appearance and character.
Veil Toque
It's a classic and extremely smart headwear. A hairdo that perfectly matches this kind of an accessory, is a bun or a retro hairdo. Hair should be straightened and smoothed. The place the bun should be located depends on the size of the toque. Face hidden behind the veil makes it look mysteriously and seductively.
Circlet
Equally impressing is a headband decorated with pearls or beds. Such a gadget matches all hairdos, no matter if you decide to wear your hair down, or tie strands on the back of the head, get strands curled, waved, etc. Remember though, the rest of your look has to go hand in hand with the headwear.