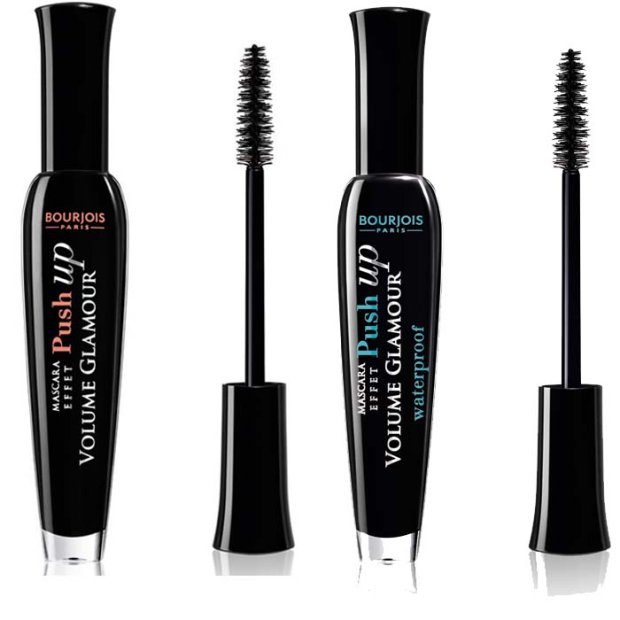 Curled eyelashes are considered as extremely fashionable these days, especially among young women. These add charm, make look bigger and eyes optically wide-open. Do you know how to obtain this effect? For example, you can have eyelash perm done, use an eyelash curler or just coat your eyelashes with Volume Glamour Push Up Ultra Black Edition mascara from Bourjois.
Eyelash perm is an alternative to use of an eyelash curler. This treatment consists in applying a special adhesive on eyelashes, and then, putting on a roller that is selected accordingly to eyelash length. Next, eyelashes are covered with a chemical preparation, which lifts up the rollers. The effect of this kind of treatment holds up for three up to six weeks. After that, eyelashes can be coated with both a mascara or henna. When the beautifying treatment is over, eyelashes stay curled and seem as if these were extended. Generally speaking, eyelash perm is recommended for those women who have got rather long yet straight and difficult to set eyelashes. The treatment lasts more or less an hour and costs approximately £40. What are the disadvantages of eyelash perm? The answer is obvious, chemical preparations weaken eyelashes considerably and make these falling out. What is more, while undergoing eyelash perm, one has to be prepared for strong eye irritations.
The truth is, there is more than just one type of eyelash curler. For example, we can distinguish mechanical eyelash curlers or heated eyelash curlers. When it comes to the mechanical eyelash curlers, these require just minimal dose of our effort. Suffice to press the handle in order to make the claws (ended with rubber) curl our eyelashes. The heated eyelash curlers, in turn, fix the curl due to the generated heat. Worth realizing, too frequent use of eyelash curlers, regardless their type, leads to deterioration of eyelash condition, making the little hair of our eyelids weaker and dried-out. As a consequence, eyelashes become breakable and prone to falling out.
Curled eyelashes can be also obtained thanks to coating these with a mascara from Bourjois named Volume Glamour Push Up Ultra Black Edition. This cosmetic can be used by people having sensitive eyes as well as by contact lenses wearers. Due to dense and short bristle, the applicator is able to curl eyelashes. By applying several coats of the product, we make our eyelashes thicker and longer. What is more, the handle of the mascara is comfortable in use, which make application of the product much easier. Worth mentioning, Volume Glamour Push Up Ultra Black Edition from Bourjois is waterproof and holds on eyelashes up to 16 hours. When it comes to the removal of the product, you have to use a dual-action liquid. Suffice to damp a cotton pad with the cleansing cosmetic and press it towards eyes delicately. The mascara is expected to became dissolved and transport itself from eyelashes onto the cotton pad.