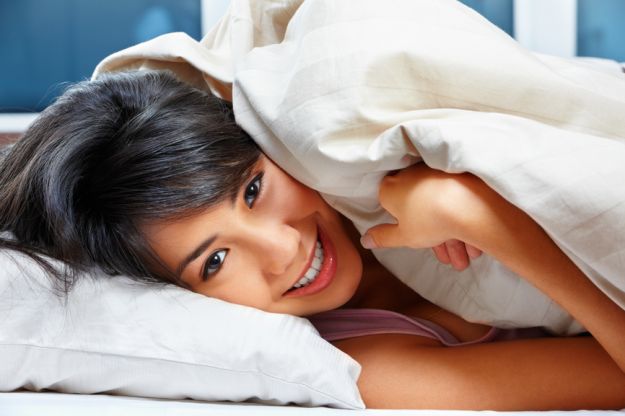 A warm duvet, an extremely comfortable bed and the famous words uttered every morning 'give me just 5 more minutes'. Do you have problems with getting out of bed as well? If the answer is positive, do not worry, there are plenty of people experiencing similar difficulties. Below, you are going to find live hacks and cosmetics that will turn your each morning into genuine pleasure.
Maybe you will find this idea crazy but a chilled moisturizing cream will get you on the feet immediately. In the evening, just before going to bed, put the face cream or the under eye cream into the fridge. Cold cosmetic will freshen up your face skin, improve blood circulation and eliminate swellings under eyes. The other method of dealing with so-called 'sagging' and dark circles under eyes is application of compresses. Damp cotton pads with a micellar lotion or a toner and put these into the fridge. Wait a while until these get cool. After that, apply the compress on your eyes and also give them some time to start working. In a few minutes, you will feel like being reborn!
Have you ever wondered how to improve microcirculation of your body skin? Instead of using a regular shower gel, reach for a cosmetic containing scrubbing or exfoliating grains. Give your body vigorous massage and rinse the cosmetic thoroughly with cool water. Obviously, such products will not only wake you up but also these contribute your skin to be smooth and firm. Worth realizing, you do not have to buy a skin exfoliating cosmetic at a chemist since you can make it at home. Prepare sugar, oat flakes or grinded coffee, add honey or fruit juice and mix all the ingredients precisely. Put the mixture on the body and rub in into skin. After this beautifying treatment, necessarily use a moisturizing cosmetic. In the morning, light body balms or moisturizing creams, that do not leave sticky and oily layer on body, will do. Such caring products will moisturise, nourish your body skin and the massage itself will make your skin tauter and improve blood circulation.
Citrus fruits have highly stimulating properties, these will get you on the feet promptly. For that very reason, it is suggested to benefit from all cosmetics  having either citrus scent or composition, especially in the morning. You can choose among bars of soap, toners or mists. Worth pointing out, some citrus fruits have energizing properties, whereas the others relaxing features or tranquilizing factors. However, the most vital is the make-up since the colour cosmetics are the allies in camouflaging dark circles under eyes, skin imperfections and signs of skin fatigue. Remember though, that an appropriately chosen foundation can work real miracles. Other cosmetics that will make your face skin look fresh and youthful are a highlighter, bright eye shadows, a blusher as well as lip glosses and lipsticks of light colours.