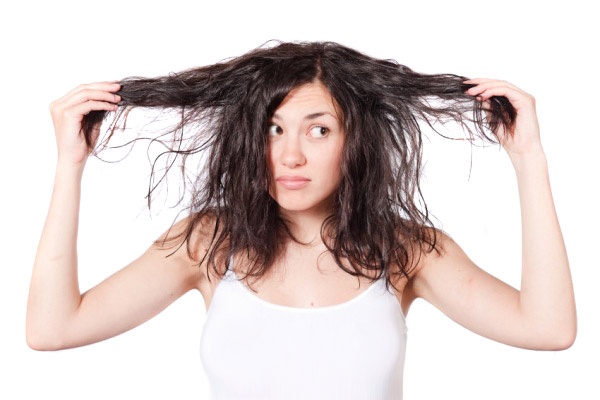 Dry, weak, rough and not soft to the touch? Can these adjectives be used to describe your hair? If your streaks are like that, then surely, it lacks proper moisturization and suitable care cosmetics. Keep calm and reach for Radical products from Farmona in order to help your weak, breakable and dry hair.
Radical for dry and breakable hair – working.
Cosmetics from Radical collection improve condition of damaged, weakened, fragile and dried-out hair. Furthermore, these work both on the surface of the hair and inside it. What is more, the products are able to close cuticles of hair, rebuild lipid layer and moisturise hair cells. It is also worth adding that Farmona cosmetics regenerate damaged hair, strengthen and prevent hair from breaking as well as ends from splitting. Moreover, these products provide smoothness, gloss and make hair easy to comb. The components of this yellow and green collection are a shampoo, a spray conditioner and a preparation providing immediate treatment.
Radical collection.
Let us start from the newest component of the collection – the shampoo. It is recommended for people at any age. The product contains strengthening and restoring damaged, dry and breakable hair. The shampoo protects streaks from losing water, contaminates originated from external environment as well as from solar radiation. Moreover, the product regenerates hair, reduces damages that have been created on its surface, restores flexibility of the hairstyle and gifts it with shine and lightness. Active substances included into the shampoo's composition are wheat extract, oat extract, common horsetail as well as strengthening ceramides. The capacity of the bottle contains 300 ml of the hair care cosmetic.
The spray conditioner Radical moisturises and regenerates breakable and dry hair. What is more, the cosmetic restores natural shine of hair, providing softness and smoothness. Furthermore, this product is able to prevent hair from breaking and ends from splitting. During course of the treatment, hair is becoming more moisturised, elastic and, in general, easy to brush. Wheat extracts, common horsetail, aloe and keratin are the active substances included into the hair spray's composition. The bottle stores 200 ml of the cosmetic.
Radical collection contains also S.O.S. treatment. In fact, it has got the same manner of working like the conditioner. Simply, it gives back the smoothness and healthy look to hair. What is more, strengthening and regeneration are also noticeable. When it comes to the composition, the cosmetic contains wheat and oat extracts, common horsetail, avocado oil and ceramides.